United States Customs and Immigration Services (USCIS)
 requires that a medical examination be conducted by a USCIS/CDC designated Civil Surgeon to confirm that an individual is admissible to the US on public health grounds. There are very specific requirements for these exams and the documentation that must be completed for individuals to submit to USCIS. Our team will explain each step of the process to you, this may include immunizations, lab tests or exam components which are necessary for you to fulfill the requirements. It is your responsibility to know if you need a complete medical exam or only a vaccination review (typically applies to refugees).
Aspects of the Immigration Medical Exam::
Physical examination and paperwork
Physical and mental evaluation
Review of medical records
Vaccinations and immunization status verification
Chest x-ray as needed
Make sure to bring the following records to your medical examination:
Your vaccination immunization records
Any prior chest x-rays
Copies of your medical history records
Your passport, identity card, laissez-passer, or travel document
i-693 form can be found here: https://www.uscis.gov/i-693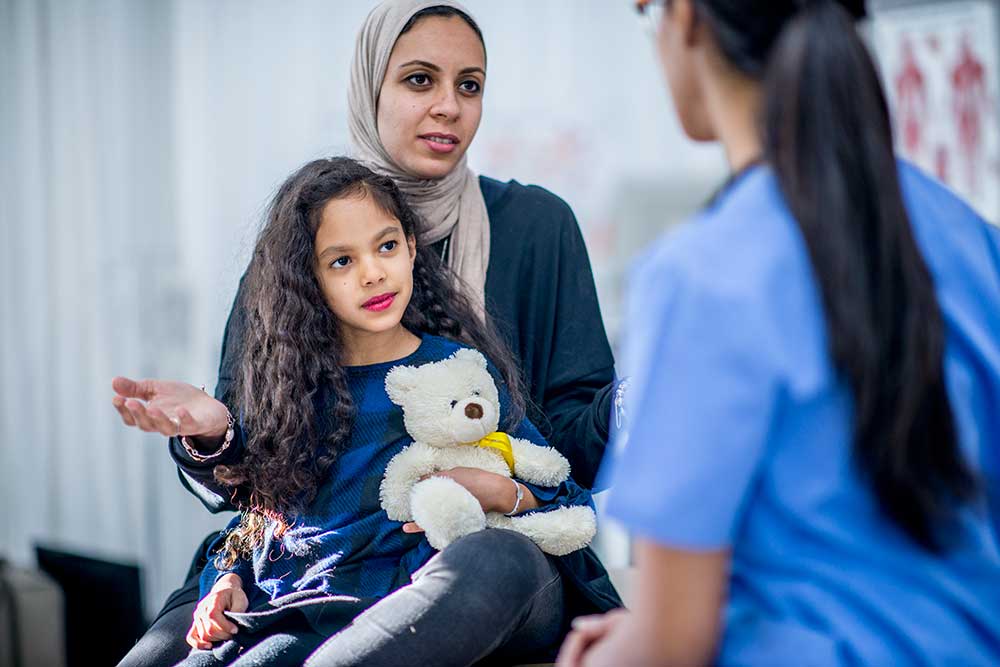 What is involved?
The Physician will review any records you provide regarding prior immunizations, perform a basic physical exam and make recommendations of which lab tests and immunizations you need in order to fulfill USCIS requirements.
How can I prepare for my visit?
Please Bring:
A person that will translate for English (if you don't speak English). We do not provide interpreters for this service.
Valid government-issued Identification (Passport, Driver's License, or Employment Authorization Card)
Proof of any vaccines received in the USA or in your home country (with English translation)
Filled-out I-693 (available at https://www.uscis.gov/sites/default/files/files/form/i-693.pdf)
Single-Sided, NO errors, NO white-out, ONLY use black ink, and DO NOT sign Page 1.
Payment for each person (We take debit card or credit card—no cash or checks).
How much does it cost?
The cost for an immigration exam can vary from person to person because it is dependent on which vaccines and tests you need to have done in order to fulfill the USCIS requirements. Our initial fee includes the physical exam with a civil surgeon, the required TB testing, RPR and Gonorrhea test (if age 15 years or older). Additional vaccines or tests the doctor determines are needed to fulfill the requirement can be provided at an additional cost.
Do you bill insurance?
No. We do not bill or correspond with personal health insurers in regards to billing for any part of these visits. We will provide you with an invoice and receipts with the appropriate insurance billing and diagnostic codes if you wish to pursue reimbursement from your insurer. If you choose to do so, you are responsible for all interactions with your insurer.
Vaccine Reviews/Refugee Services
This Record Review is for any applicant who has already had a medical exam and are ONLY being instructed to have their records reviewed again. If you or your family members have NOT had any exam yet, you will need a record review AND a physical exam by the civil surgeon and this information does NOT apply in your circumstance. If you do not know if you need a vaccine review or an exam, please contact USCIS. We do not have access to the information needed to determine if you need a vaccine review only or an exam.
For this review, you need to be able to read, write, listen and speak in English. We do NOT arrange translators for Immigration appointments. If you are having trouble reading this, you MUST bring a translator with you to help you.
The record review only includes the vaccination paperwork review and sealed envelope once everything is complete. It does NOT include a medical exam, nor any additional vaccines or tests that the Doctor may say are necessary in order to complete USICIS requirements. If you find out later that you needed an exam you will also have to pay the full price for the exam. Please be certain you know which service you need.
If needed, nearly the required vaccines and tests can be received at our clinics after your records have been reviewed in order to complete the paperwork, each with a specific cost. You may also obtain the required vaccines and tests at the clinic of your choice and give the documentation to us.
Please note that it will take approximately 2 weeks to receive your finished packet.
Vaccine Record Reviews are offered:
Hillsboro Clinic: On THURSDAYS only. On a walk-in basis, for information please email hillsclinic@oregonoccmed.com or call 971-470-3275.
Tualatin Clinic: On MONDAYS or FRIDAYS by APPOINTMENT ONLY. In order to arrange an appointment please email tualclinic@oregonoccmed.com or call 503-563-5382.
What if I can't keep my appointment?
We ask for a credit card number at the time you schedule, this reserves your appointment time. If you do not keep your appointment or fail to give us a 24 hours cancellation notice we will charge a no show/late cancel fee to that card.
How long will it take?
You should plan on being in our office 1-2 hours per individual exam, a significant portion of that will be spent meeting with the Physician.
When will I receive my documents?
Most often we are able to have your documents completed within one to two weeks. This time frame is an estimate, your documents may take more or less time based on which tests, immunizations and services you need in order to fulfill USCIS requirements. You can help expedite the process by providing us with documentation of your previous immunizations or proof of immunity against vaccine-preventable diseases. We will contact you once your documents are ready to pick up. You will need to sign your I-693 form at the time you pick up your documents, therefore each individual must be present to receive his/her own documents.