United States Customs and Immigration Services (USCIS) requires anyone seeking to become lawful permanent residences to receive a medical examination be conducted by a USCIS- and CDC-designated Civil Surgeon. The I-693 Medical Exam has very specific regulations and requirements that are all necessary to fulfill both USCIS and CDC standards in order to confirm that an individual is admissible to the US on public health grounds. Some individuals, such as Refugees, may only need a Record Review and not a full exam to meet USCIS requirements. If you are unsure of which process you will need, our Immigration Questionnaire will point you in the right direction.
Aspects Of The Immigration Medical Exam:
Physical examination with a Civil Surgeon
Completion of I-693 Paperwork
Review of personal medical records
Verification of current vaccination/immunization status
Screening for Tuberculosis, Syphilis and Gonorrhea
What To Bring To Your Exam:
An interpreter (if you are unable to communicate in English)
Government-Issued Identification (passport, identity card, driver's license, travel document, etc)
Your vaccination/immunization records
A printed-out and completed copy of the Form I-693 for each person
The Form I-693 form can be found here: https://www.uscis.gov/i-693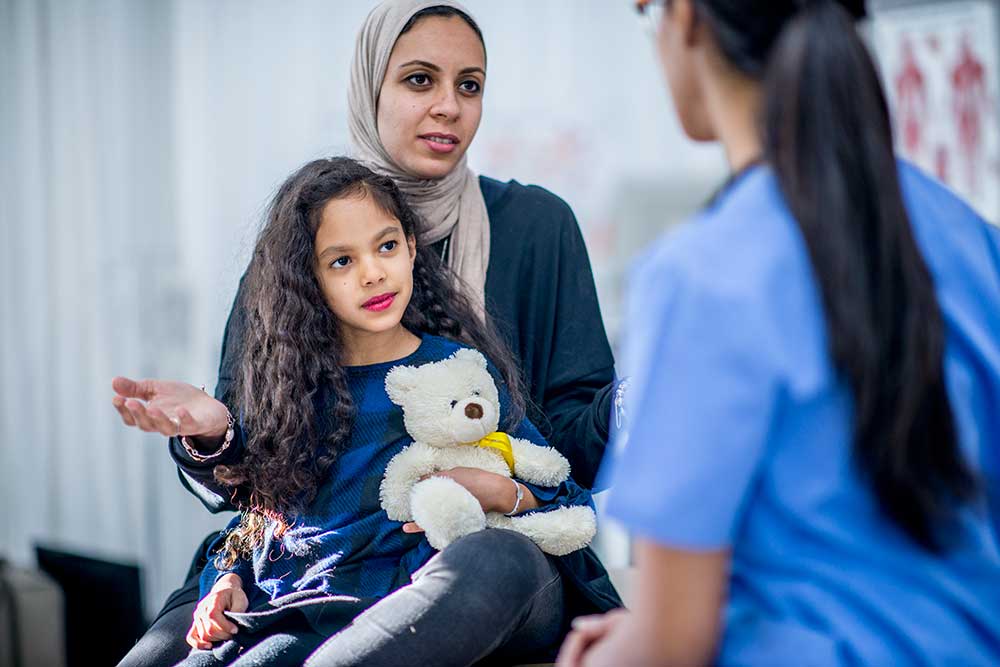 What is involved?
During a physical exam, the Civil Surgeon will perform a basic physical exam, review any records you provide and make recommendations of which lab tests and immunizations you need in order to fulfill USCIS requirements. After seeing the Civil Surgeon, screenings are performed for Tuberculosis, Syphilis, and Gonorrhea, which will be sent to a laboratory for processing. Any needed vaccines are not included in the price of the exam as individual needs vary but can be administered for an additional cost if needed.
How can I prepare for my visit?
After your appointment has been scheduled, please consult our clinic before getting any additional vaccines. On the day of your appointment, drink plenty of water. Fasting from food is not necessary. Also, be sure to bring all of the necessary items to your appointment to prevent rescheduling, delays, or fees (an I-693 with Parts 1-4 completed in black ink, identification, interpreter, and vaccine records with English translation).
How much does it cost?
The total cost for an immigration exam can vary from person to person because it is dependent on which type of appointment you will need, as well as which vaccines and tests you need to have done in order to fulfill the USCIS requirements. To see how much an exam would cost for you and/or each of your family members, simply take our Immigration Questionnaire by clicking
HERE
.
Please note that any needed vaccines are not included in the price of the exam. Most vaccines are available at our clinic and can be administered at an additional cost.
Do you bill insurance?
No. We do not bill or correspond with personal health insurers regarding billing for any part of these visits. If requested, we will provide you with an invoice and receipts with the appropriate codes to pursue reimbursement from your insurer. If you choose to do so, you are responsible for all interactions with your insurer. If any vaccines are needed, you are welcome to use your personal health insurance at a local pharmacy or your doctor's clinic to cover the costs associated with those vaccines, with the results being sent to us to complete your medical exam process.
Vaccine Reviews/Refugee Services
The
Record Review
process is for any applicant who has already had a medical exam and is ONLY being instructed by USCIS to have their records reviewed again by a Civil Surgeon
. Often this process applies to individuals who are in the United States as Refugees or who have come on K1 visas without having had a prior medical exam by a Civil Surgeon before leaving their previous country of residence. If you or your family members have NOT had any exam yet, you will need a full physical exam by the Civil Surgeon and the information about the Vaccine Review Process does NOT apply in your circumstance.
Historically, we have offered this service to our patients, but as of 07/20/2021, we are no longer accepting non-exam paperwork for review for immigration.
We continue to offer the complete Immigration Physical Exam with a Civil Surgeon at both of our clinics. Again, if you are in doubt, answering a few questions in our Immigration questionnaire will help you know process is required to comply with your current immigration requirements.
What if I can't keep my appointment?
If you schedule an appointment with us, it is important to attend it. If you are unable to keep your appointment, it is necessary to give us at least 24 hours of notice. Please keep in mind that the $50 per person deposit made for this appointment at the time of scheduling is non-refundable.
Do You Provider Interpreters for Immigration Exams?
We do not arrange translators for Immigration appointment. In order for us to appropriately help you during your time with us, you need to be able to read, write, listen and speak in English, or to bring a translator with you to help you complete paperwork. This person may be professional or a friend/ family member that is over 18 years of age and that is fluent in the English language. They must be able to verify that you understand the paperwork that you are signing.
How long will the exam take?
You should plan on being in our office 1-2 hours per individual exam to complete all aspects of your physical exam with the Civil Surgeon, paperwork review and screenings.
When will I receive my documents?
Most often, documents are completed within one to two weeks. This time frame is an estimate, however, and your documents may take more or less time based on which tests, immunizations and services you need in order to fulfill USCIS requirements. You can help expedite the process by providing us with documentation of your previous immunizations or proof of immunity against vaccine-preventable diseases, or getting all necessary vaccines as quickly as possible. We will contact you once your documents are ready to pick up.
**Please note that there is currently a 60-day time frame in which a completed packet must be turned into USCIS. If turned in after 60 days, the packet will be rejected by the USCIS as "expired". While planning ahead is generally helpful, getting your medical exam too soon in advance in the immigration process may cost you more money and time than planned. Please let our staff know about any current time concerns or upcoming USCIS appointments when making your Immigration Medical Exam appointment.